04 December 2016 – Judge Loraine Ratter (Seafar)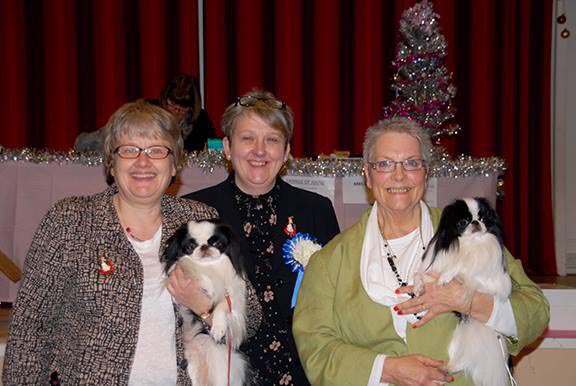 As Chairman of the club I would like to thank so many people for supporting our first show and making it such a success. Thanks to the committee for all that they did before and on the day; to our President, Tom Mather for supporting the show and donating some wonderful raffle prizes and that special book which was auctioned, thanks to the Exhibitors for giving a super entry and to Loraine Ratter our replacement judge for standing in at the eleventh hour.
Thanks to the steward and "auctioneer extraordinaire" John Steele, for managing the ring so well.
Thank you to the the visitors who came along to watch and support the show.
Thanks to Marie Moss for spending what must have been hours making the bonio rings for class winners – the dogs will have hours of fun with them, to Lynn Crane for bringing back koala bear gifts from her recent trip to Australia for the winners.
To the "Chin lover" who donated prize money-thank you sir.
To Sandra Mowatt who donated all the Rosettes -thank you.
Thank you to Mr. & Mrs. McLeod for donating prize money for B.I.S., R.B.I.S. and B.P.I.S. and thanks to Sue Meadows for donating prize money to Class 9.
Sandra Boyer, the towels you donated were lovely, thank you, I'm sure the B.I.S, B.P.I.S and B.V. appreciated them.
To Santa, for dropping in on the show and giving all the Chins his special little gifts, thank you and for looking after the club stall and selling the fridge magnets and club badges.
Finally special thanks go to Mike Burke, Irene Pearson & Maureen Hodgson for preparing and serving Afternoon Tea which was fit for a Queen. The sandwiches, salad, crisps, with special fillings were so tasty, the home made scones filled with jam and fresh cream, made by Julie Godbehiere and Lesley Kilcoyne were delicious, the home made Victoria sponge cake, carrot cake ( which was my favourite ) and lemon drizzle cake, made by Sandra Mowatt, Rebecca Wolfenden and Lynn Crane. Mike and Irene you were real stars of the kitchen, the kitchen was spotless when we all finally got to go home.
Thank you.I do hope if I have missed anyone you will accept my thanks anyway.
Lorraine